Top Ten Dos and Don'ts of SaaS
Build a successful software-as-a-service business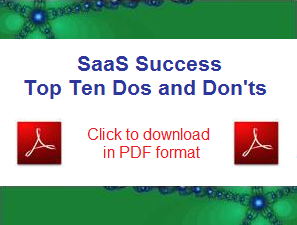 Save it or share it with a colleague.
Click the image above to download the SaaS Top Ten PDF.
For more SaaS business strategy tips,visit or subscribe to Chaotic Flow by Joel York
Or, click below to read the SaaS Top Ten Dos and Don'ts online...
The Top Ten Dos of SaaS Success
The Top Ten Surefire Ways to Fail at SaaS
Chaotic Flow
Streamlined angles on turbulent technologies
Software-as-a-Service Success
The Top Ten Dos and Don'ts of SaaS Business Success
The Don'ts: Ten Surefire Ways to Fail at SaaS
SaaS Don't #2 Waste Money Marketing Offline
Offline marketing is almost always more expensive than online equivalents, and for most SaaS businesses the average lifetime revenue per customer is usually far too low to cover it. Plus, if your prospects are not online, they are missing a very fundamental qualification criterion for buying a Web application—they aren't online! While there may be focused events or offline promotions that can deliver positive ROI, or have ancillary benefits such as showing industry presence and credibility, they are few and far between.