Top Ten Dos and Don'ts of SaaS
Build a successful software-as-a-service business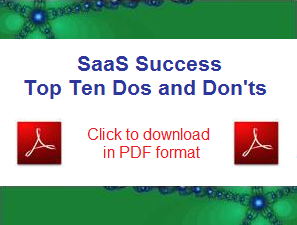 Save it or share it with a colleague.
Click the image above to download the SaaS Top Ten PDF.
For more SaaS business strategy tips,visit or subscribe to Chaotic Flow by Joel York
Or, click below to read the SaaS Top Ten Dos and Don'ts online...
The Top Ten Dos of SaaS Success
The Top Ten Surefire Ways to Fail at SaaS
Chaotic Flow
Streamlined angles on turbulent technologies
Software-as-a-Service Success
The Top Ten Dos and Doníts of SaaS Business Success
The Doníts: Ten Surefire Ways to Fail at SaaS
SaaS Don't #3 Launch without Online Trial
Bringing your software-as-a-service to market without a free trial is marketing suicide. It is akin to launching an e-commerce site without registration or purchase. How many books would Amazon sell if you could see the covers, but you couldnít read the reviews or look inside, and you had to pick up the phone to buy? Game over. Without online trial, you are erecting a great big stop sign in front of your prospect at the most critical point in the purchase cycle: the point after you have spent all that money generating demand, and you are on the verge of gaining a modicum of control over the sales process when your prospect raisers her hand to demonstrate interest and reveal her identity.