Top Ten Dos and Don'ts of SaaS
Build a successful software-as-a-service business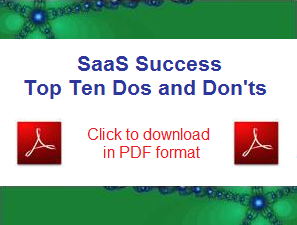 Save it or share it with a colleague.
Click the image above to download the SaaS Top Ten PDF.
For more SaaS business strategy tips,visit or subscribe to Chaotic Flow by Joel York
Or, click below to read the SaaS Top Ten Dos and Don'ts online...
The Top Ten Dos of SaaS Success
The Top Ten Surefire Ways to Fail at SaaS
Chaotic Flow
Streamlined angles on turbulent technologies
Software-as-a-Service Success
The Top Ten Dos and Doníts of SaaS Business Success
The Doníts: Ten Surefire Ways to Fail at SaaS
SaaS Don't #9 Fail to be Creative
Face it. There is a lot of software out there already. And, it can be really, really cheap. Email works just great, so tell me again why I need your Wiki? Itís a big Internet. Why should I pay attention to your search ad? Why should I make all that effort just to save a few pennies? Creativity is your only defense against the noise and malaise surrounding your prospects. Your application must be different. Your message must be different. Your business must be different. Not just a little different, but ten times different if you expect to break away from the pack.