Top Ten Dos and Don'ts of SaaS
Build a successful software-as-a-service business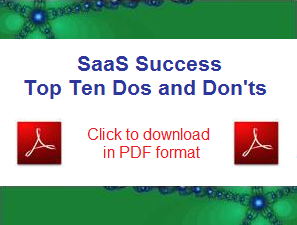 Save it or share it with a colleague.
Click the image above to download the SaaS Top Ten PDF.
For more SaaS business strategy tips,visit or subscribe to Chaotic Flow by Joel York
Or, click below to read the SaaS Top Ten Dos and Don'ts online...
The Top Ten Dos of SaaS Success
The Top Ten Surefire Ways to Fail at SaaS
Chaotic Flow
Streamlined angles on turbulent technologies
Software-as-a-Service Success
The Top Ten Dos and Don'ts of SaaS Business Success
The Don'ts: Ten Surefire Ways to Fail at SaaS
SaaS Don't #7 Ignore the Long Tail
It is virtually impossible to move down-market once you are locked into a high price, high-touch, high-cost business model. You must "dumb down" your product offering, reduce selling costs and frequently cannibalize revenue. However, if you create your business with a vision of profitably servicing the long tail, i.e., market segments with the lowest average revenue per customer, then you will have no problem profitably servicing higher revenue segments.
When your business is built to service the long tail of your market, you derive the immediate benefits of organic inbound demand and self-service revenue—there is no other way to service the long tail. This inbound lead flow will fuel for your core business. And, once you have your basic product offering and cost structure in line, it is much more straightforward to add advanced product functionality, strategic selling capability, and professional services to move upstream profitably. In short, it is easier to increase revenue and costs than it is to reduce them.