Top Ten Dos and Don'ts of SaaS
Build a successful software-as-a-service business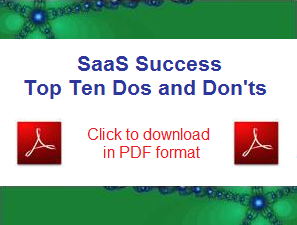 Save it or share it with a colleague.
Click the image above to download the SaaS Top Ten PDF.
For more SaaS business strategy tips,visit or subscribe to Chaotic Flow by Joel York
Or, click below to read the SaaS Top Ten Dos and Don'ts online...
The Top Ten Dos of SaaS Success
The Top Ten Surefire Ways to Fail at SaaS
Chaotic Flow
Streamlined angles on turbulent technologies
Software-as-a-Service Success
The Top Ten Dos and Doníts of SaaS Business Success
The Doníts: Ten Surefire Ways to Fail at SaaS
SaaS Don't #1 Chase Elephants
Chasing big, bad elephants is by far the most tempting mistake a software-as-a-service business can make. You find a prospect that has lots of cash, but it needs special features, requires a long sales cycle and has restrictive legal requirements. When you need cash, chasing even the most difficult and demanding customers can become attractive; perhaps even a matter of survival. But, one too many stumbles away from your core strategy and you wake up to find that you are a small consulting business constrained by the special needs of a few powerful customersónot a rapidly growing web application with a low TCO value proposition based on a single-instance, multi-tenant architecture.