Top Ten Dos and Don'ts of SaaS
Build a successful software-as-a-service business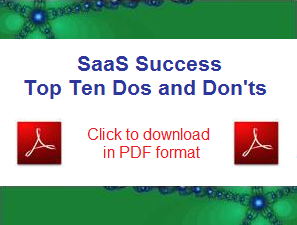 Save it or share it with a colleague.
Click the image above to download the SaaS Top Ten PDF.
For more SaaS business strategy tips,visit or subscribe to Chaotic Flow by Joel York
Or, click below to read the SaaS Top Ten Dos and Don'ts online...
The Top Ten Dos of SaaS Success
The Top Ten Surefire Ways to Fail at SaaS
Chaotic Flow
Streamlined angles on turbulent technologies
Software-as-a-Service Success
The Top Ten Dos and Doníts of SaaS Business Success
The Doníts: Ten Surefire Ways to Fail at SaaS
SaaS Don't #8 Think You Can Control It
Managers love control. Itís in their nature and itís reflected in business maxims like ďYou canít control what you donít measure.Ē When you are selling a million dollar deal, you get lots of face-time with your prospect and there is considerable give-and-take on both sides. Not so online.
The need for control can lead good managers to make poor SaaS business decisions by favoring control over performance, such as increasing sales staff when there is insufficient inbound lead flow to support it. Or, spending money on low ROI email and paid search campaigns, rather than taking a decisive leap into the fuzzy worlds of social media and organic search.