Top Ten Dos and Don'ts of SaaS
Build a successful software-as-a-service business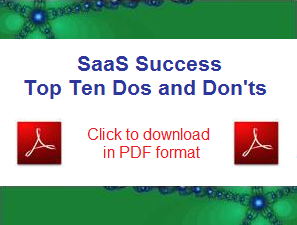 Save it or share it with a colleague.
Click the image above to download the SaaS Top Ten PDF.
For more SaaS business strategy tips,visit or subscribe to Chaotic Flow by Joel York
Or, click below to read the SaaS Top Ten Dos and Don'ts online...
The Top Ten Dos of SaaS Success
The Top Ten Surefire Ways to Fail at SaaS
Chaotic Flow
Streamlined angles on turbulent technologies
Software-as-a-Service Success
The Top Ten Dos and Doníts of SaaS Business Success
The Doníts: Ten Surefire Ways to Fail at SaaS
SaaS Don't #5 Invest in Channel Partners too Early
No one wants to resell your product or service unless they can make money at it. Until you are making money at it, you will have a hard time convincing a partner to invest precious time and resources building capacity to do so. It may be that your best distribution channel will someday be channel partners, but you almost always need to kick-start revenue yourself to prove the business potential. And, you will need to share the unique aspects of marketing and selling your product with your partnersówhich you canít do if you havenít been through it yourself.